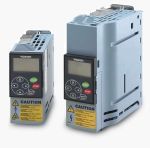 Vacon NXL
The compact Vacon NXL range offers cabinet-mounted units for lower motor powers in industrial and residential applications from 0.37 to 2.2 kW.
The frames MF2 and MF3 of the Vacon NXL are suitable for both 208-230 V and 380-500 V supply voltages for powers up to 2.2 kW. The compact size and flexible installation options make the Vacon NXL suitable for installations where space is at a premium. The standard control I/O can be extended with one I/O expander board or one fieldbus board.
Features
Small size

Flexible installation (back or side, screw or DIN rail)

Easy to install and use

Low noise

Large amount of control possibilities (via I/Os, fieldbuses or display panel)

Large amount of features (e.g. fully programmable I/O, auto-identification, PID controller, flying start)

High performance

RFI filters and AC chokes available as options
Vacon NXL Start-up Wizard
The basic settings can be programmed by simply launching the Vacon NXL Start-up Wizard. Only four steps are required, and the drive is ready to run.
Brochures & User manuals
Pateikti užklausą