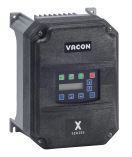 Vacon 500X
Vacon's new X series is a rugged family of variable speed AC drives, built and designed for harsh industrial environments.
From simple applications to those requiring advanced communications, Vacon 50X and Vacon 500X offer an increasing level of performance and features for the industrial environment. Capabilities ranging from simple press-and-run keypad operation to a real-time clock, advanced PLC functions or a USB interface are available. The powers up to 75 kW are available in IP66 for the ultimate environmental protection.
Building on the brawn and success of Vacon's AC drives, the Vacon's X series raises the bar for general and special application AC drives. If you care about quality, full-fledged features and needing fewer things to worry about, invest in a real solution – the Vacon X series. The Vacon X series is ideally configured for any industrial application where data collection, flexible interfacing, and automatic sequencing operation are a priority.
In the Vacon tradition, the tough enclosure of the Vacon X series shields the advanced capabilities from hostile environments. Add in the real-time clock functionality, advanced process control features, and USB versatility, the Vacon X series raises the standard established by Vacon for advanced AC drive applications.
The Vacon 50X and Vacon 500X ranges are available for powers from 0.75 kW to 132 kW at voltages of 110, 220, 400–500 and 600 VAC.
Power range from 4 to 132 kW
The same tough packaging characteristics as in the Vacon 50X
Simple operation using standard Vacon X range programming
Enhanced keypad design utilizes color-coded buttons and easy-to-read display
All PC boards are conformal coated for additional protection from contamination
Smart design
Real-time clock – time-of-day functionality
Data capture, event logs, reminder warnings
Advanced program sequencer (25 steps) function (built-in PLC)
Standard USB port – memory stick plug-in for data storage and drive reflashing
System-level drive features for precise control and flexibility
Advanced process control options
115 VAC control interface
Encoder feedback
EMC, industrial level – category C3 available
Communication protocols

Ethernet IP
DeviceNet
ModBus TCP (includes Web page)
Pateikti užklausą