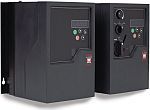 The Vacon SE1 NEMA 12/IP55 AC drive
Designed for fast and easy commissioning, Vacon's compact SE1 AC drive is simple to operate, economical to use and offer basic features for general applications in the power range of 0.5 to 5 HP (0.37 - 4 kW).
Vacon SE1 –
Smart Economy AC Drive

Competitive purchase price
Low installation costs
Easy to use;
simple to adapt



NEMA 12/IP55

IP20

115 V
220…240V
380…480V

single and
three phase

0.5…5HP

0.37…4.0kW
Vacon SE1 models are protected by NEMA 12/IP55 enclosures providing complete touch protection plus front line defense against dust, occasional splashes or low pressure jets of water and dripping non-corrosive liquids.
Documents
Key Benefits
Industrial-duty NEMA 12/IP55
Wall mountable
Resists low-pressure water, dust, dirt and chemicals
Fast setup, factory default settings for most applications, only 14 basic parameters with a maximum of 40
Switched or non-switched
Full keypad control
Small mechanical size
Industry Sectors
Food processing
Bottling
Pumping
Chemical
Waste Water
HVAC
Legendary Value
Enclosures that exceed expectations
Simple to set up and use
Economically priced
Switches or Not
The Vacon SE1 NEMA 12 offering gives the user a choice. For most stand alone applications, the stock keypad-operation version will give the most economical solution to the user. And, in the case where additional controls are needed, the Switched versions offer a manual speed control potentiometer, Forward/Stop/Reverse switch and a full-rated, lockable input power disconnect switch, plus our standard keypad - no need for additional controls!
Global Design
For a small world, our Vacon SE1 NEMA 12/IP55 products meet all recognized international standards including UL, cUL, CE and C-tick.
Pateikti užklausą